SEMINAR
  Transparent Ceramics Research Center, SICCAS
  Key Laboratory of Transparent Opto-fuctional Inorganic Materials, CAS
  中国科学院上海硅酸盐研究所透明陶瓷研究中心
  中国科学院透明与光功能无机材料重点实验室
  Co2+-DOPED OXIDE GLASS-CERAMICS AS PHOTOTROPIC MATERIALS
  Speaker
  Dr. Serhii Parkhomenko
  Institute for Single Crystals, NAS of Ukraine
  时间:6月12日 (星期二)10:00 AM
  地点:嘉定园区F区4楼会议室
  联系人:李江(69163689)
  Abstract:
  The report describes fabrication of phototropic materials based on oxide glass-ceramics. The report focuses on the application phototropic materials, in particular on their role in the modern laser technology as a saturable absorber.
  The working principle of saturable absorbers based on transition metal ions in a four-coordinated environment has been considered. The main requirements to the materials are substantiated, attention is paid to the peculiarities of the excitation and relaxation processes of such ions in the "saturable absorber" regime. A list of actual crystalline media showing a significant phototropic effect upon activation by transition metal ions is given. The demands and direction of the search for new media for the realization of the phototropic effect of transition metal ions are shown.
  The possibility of directed control of the functional parameters of saturable absorbers by creating phototropic materials based on composite glass-ceramic (GC) media as a matrix for the accommodation of transition metal ions is discussed. The principal features of the preparation and structure of such materials are considered, the possibility of their use as saturable absorbers and comparative characteristics are shown. The choice of a model system of glass ceramics (oxide nanocrystals activated by Co2+ in a glass matrix) is substantiated. GC allows one to change the parameters of nonlinear absorption by variation the crystal field on the metal ions if the composition of the matrix medium is modified.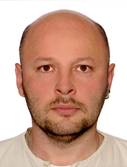 Serhii Parkhomenko was born on September 15, 1980, in Kharkiv, Ukraine. He graduated from National Technical University "Kharkiv Polytechnic Institute". In 2008 he defended Ph.D. Thesis in Technical Sciences at Institute for Single Crystals, NAS of Ukraine (specialty Solid State Physics).
  He works at Institute for Single Crystals, NAS of Ukraine, from 2004. Now he is Senior Researcher of Department of Crystalline Materials of Complex Crystalline Compounds. Research activity of Serhii Parkhomenko is devoted to fabrication and characterization of nanocrystalline and nanostructured materials for photonics and laser technique, development of functional optical ceramics, study of the sintering processes of oxide nanopowders.